Laser Dentistry Santa Rosa, CA
Ivoclar Odyssey® Diode Laser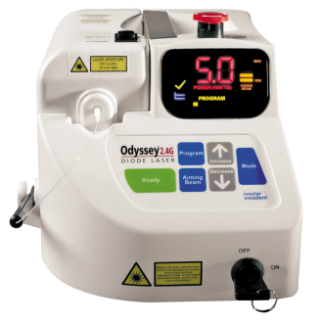 Laser dentistry and laser therapy are some of the latest advancements in the field of dentistry. In the spirit of commitment to the highest level of treatment for our patients, Dr. Michael Hamblin has incorporated the Odyssey® Navigator Diode Laser into his available treatment options. This is cutting edge technology that has proven, miraculous results in the treatment of soft tissue, and gum related problems.
Engineered with class-leading advancements, the Odyssey Navigator provides unsurpassed capabilities continuing Ivoclar Vivadent's tradition of quality and revolutionary products.
Minimally Invasive
The Odyssey Navigator utilizes the 810 nanometer wavelength, the proven technology in dental diode lasers. This wavelength has a high affinity for gingival soft tissue making it an invaluable tool for esthetic sculpting, accessibility, isolation and the healing of soft tissue. The Odyssey Navigator is powered by 3 Watts of efficient lasing technology providing you access to the most sophisticated, precise, and minimally invasive technology in dentistry.
Comfort & Convenience
The single most important feature of a handpiece is how comfortable it feels in your hand during use. The ergonomic design creates a handpiece that is a pleasure to work with for every procedure. Unique to the Odyssey Navigator are unit-dose fiber tips that are delivered pre-stripped and pre-cleaved. This revolutionary idea allows for fast, easy operation by simply snapping a new tip onto the handpiece and you are ready to lase!